Jitsuin rebrands as RKVST for blockchain data assurance
The RKVST platform supports multiple types of blockchain data applications, including secured SBOM data sharing for cybersecurity.
Blockchain-based data sharing vendor Jitsuin has rebranded itself to RKVST, the name of its flagship platform for blockchain data assurance and sharing.
The 2018 startup, based in Santa Clara, Calif., unveiled on March 15 a new free access entry-level tier for its cloud-hosted service.
Chief among the applications for RKVST is providing data assurance using blockchain to guarantee the integrity of shared data.
Enterprises also use the service to support vendors that produce a software bill of materials (SBOM) that identifies all the components in a particular application. SBOMs are increasingly part of cybersecurity initiatives, most notably the cyberdefense executive order signed by President Joe Biden in May 2021.
Among the organizations that are using RKVST to store and share data is Device Authority, a vendor based in Reading, U.K., that provides security for IoT devices. The company needs to supply SBOM data securely, which is why it uses RKVST, said Darron Antill, CEO of Device Authority.We need to supply our SBOM [data] on an ongoing basis. RKVST is a scalable way for us to manage who has access to it. It connects to our build environment, and once configured, we don't need to put any more thought into it.
"We need to supply our SBOM on an ongoing basis," Antill said. "RKVST is a scalable way for us to manage who has access to it. It connects to our build environment, and once configured, we don't need to put any more thought into it."
How RKVST uses blockchain for data assurance
RKVST enables data assurance by establishing provenance, proving who did what to data and when — a critical aspect of asset governance.
SBOM is just another type of asset that RKVST is able to deal with, said Rusty Cumpston, CEO of RKVST.
"Anything can be an asset, even just a document and a file," Cumpston said.
A core feature of the RKVST platform is multiparty sharing. That allows for a single immutable source of truth about data that is accessible to any party through controlled governance by the asset's owner.
"It doesn't require that people know crypto or blockchain, or understand all the complexities involved — and how identity and access systems work — to be able to exchange information freely and securely," Cumpston said. "A developer only needs to use a simple API to be able to add continuous assurance for different types of assets."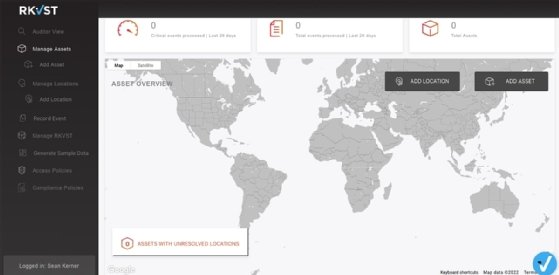 Immutable ledger with blockchain database
The core of the vendor's platform is blockchain technology that provides an immutable ledger, said Jon Geater, CTO and co-founder of RKVST. That ledger helps to provide assurance and guarantee the integrity of data over time.
Querying data is done via a REST API, which then returns a JSON document. Looking at the history of a given asset, the blockchain provides an irrevocable record of the evolution of the asset's state over time.
A challenge for data sharing is often that organizations are willing to share some data, but not all data. To address that, RKVST provides fine-grained access control and policies for data access. Users can define the polices to allow specific access for certain users to certain attributes of the data that RKVST tracks.
The notion of an immutable ledger service to act as a database that provides data integrity is not unique to RKVST. Organizations can choose immutable ledger services from multiple vendors, including Amazon's Quantum Ledger Database and Microsoft's Azure SQL. Oracle provides blockchain table capabilities as well.
Making sure data can't be forged or modified is a primary attribute of all immutable ledger services, including RKVST. Geater said that in his view, RKVST differentiates itself by focusing on secured data sharing for industrial applications such as SBOMs.
RKVST enables users to effectively use data knowing that having an immutable ledger database provides a layer of assurance and confidence, he said.
"Immutability is there for confidence and reliability, but it's a means to an end. It's not the end in itself," Geater said.